Year 2 Christmas Maths Lesson – Adding Money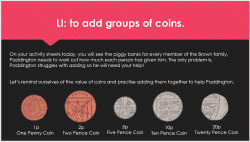 This fully resourced Maths lesson about Paddington going Christmas shopping is designed for pupils to add together coins to find the total amount of money donated to Paddington so that he can buy presents this Christmas.
Pupils will have a chance to remind themselves of the value of each coin before practising how to add groups of coins together.
This lesson is differentiated three ways. Below is a list of their tasks to see if it is suitable for your class.
Challenge 1 (LA): Adding 1ps, 2ps, 5ps and 10ps.
Challenge 2 (MA): Adding 1ps, 2ps, 5ps, 10ps and 20ps.
Challenge 3 (HA): Adding 1ps, 2ps, 5ps and 10ps and 20ps (higher totals).