Roald Dahl Matilda Week of Literacy Planning – Character Descriptions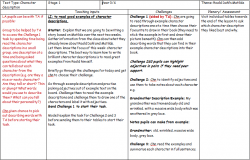 A week of Literacy lessons based on Roald Dahl's Matilda. This is a set of 5 lessons for LKS2 focusing on character descriptions.
The week starts by the pupils reading good examples of character descriptions from other Roald Dahl books before moving onto two days of differentiated skills lessons focusing on using adjectives and similes before planning and writing their character descriptions.
All lessons come with a detailed lesson plan, a PowerPoint presentation and paper resources!